Unlocking Success with HubSpot CRM: Key Features and Technical Insights
Blog

/

Unlocking Success with HubSpot CRM: Key Features and Technical Insights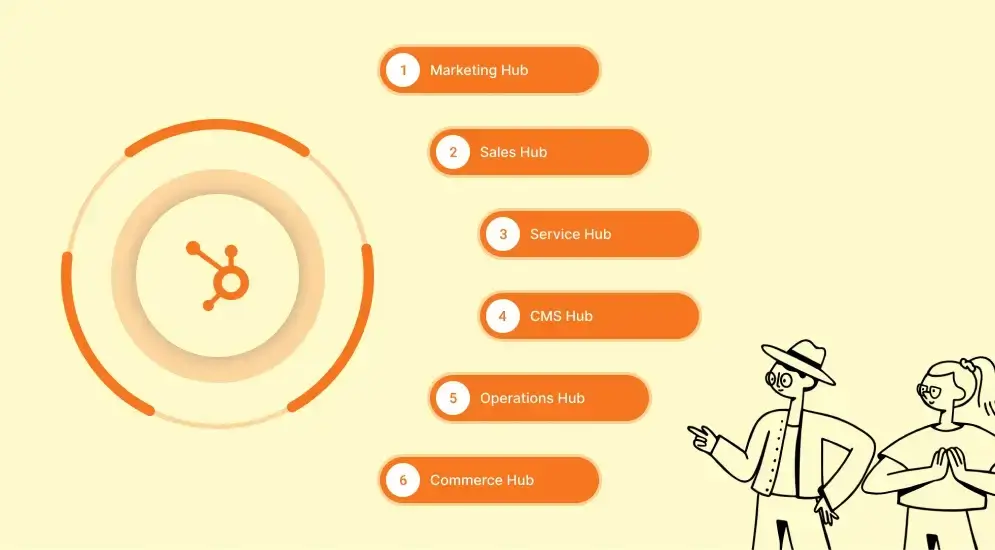 Shubham Mishra
When choosing the right CRM for your business, making an informed decision is crucial. Navigating the challenges of selecting a CRM that aligns with your business goals can take time and effort, especially when integrating it with your inbound marketing strategies. In today's technology-driven landscape, mastering inbound marketing software is essential for attracting visitors, converting leads, and closing customers effectively.
HubSpot CRM is a leading inbound marketing software that elevates the process and offers strategies to outshine competitors. It empowers businesses to generate high-quality leads, maintain lasting customer relationships, and engage prospects at every touchpoint. In this article, we'll delve into the critical features of HubSpot CRM that contribute to a customer-centric approach and heightened productivity.
HubSpot CRM - A Cloud-Based Powerhouse
HubSpot CRM is a cloud-based platform with tools and integrations that serve multiple functions crucial for business growth. HubSpot provides a suite of hubs. These hubs cater to marketing, sales, content management, and customer service, offering improved strategies and resources. These hubs can be used individually or integrated, creating a seamless business flow with their tools, integrations, and remarkable HubSpot CRM features. This unique style of encapsulating different aspects of business and 'hubs' and providing appropriate services allows users to choose whether to integrate HubSpot in all or some parts of their business. Currently, there are six main hubs:
Marketing Hub
This hub is designed for marketers and includes tools for creating and managing marketing campaigns, email marketing, social media marketing, content management, SEO, analytics, and lead generation. Here are some key features of the marketing hub:
Landing Pages:

Streamlined creation of landing pages for marketing campaigns.
List Segmentation: Targeted marketing through precise contact list segmentation.
Email: Comprehensive email automation platform with personalization and reporting.
Paid Ad Tracking: Integration to analyze the performance of LinkedIn, Facebook, and Google Ads.
Social Media Integration and Management: Simplified management and scheduling of social media posts.
Sales Hub
HubSpot's Sales Hub is tailored for sales teams. It provides tools for managing leads, automating sales processes, tracking deals, email tracking, and creating personalized email sequences. Here are some key features of Sales Hub:
E-Mail Templates: Supplies pre-built email templates that can be customized and used to streamline communication with prospects and customers.
Free Calling: Includes a built-in calling feature that allows sales reps to make and receive calls directly within the platform, eliminating the need for external phone systems.
E-Mail Sequences: Sales reps can create customized email sequences to automate follow-ups with prospects, ensuring consistent and timely communication.
Meet Scheduling: A meeting scheduling feature that integrates with popular calendar applications allows prospects to book meetings with sales reps easily.
Pipeline Tracking: Provides a visual pipeline view that enables sales teams to track and manage their deals at every stage of the sales process, ensuring nothing falls through the cracks.
Contact & Account Management: It has tools for managing and organizing contacts and accounts, making it easier for sales reps to keep track of their interactions and nurture relationships.
Opportunity & Pipeline Management: It has features to help sales teams create and manage opportunities and track them through the sales pipeline, providing visibility into deal progress and enabling effective forecasting.
Task / Activity Management: Sales reps can create tasks and activities within the Sales Hub to stay organized and ensure that important actions are completed on time.
Service Hub
Service Hub is focused on customer service and support. It offers tools for ticketing, knowledge base creation, customer feedback collection, live chat, and customer feedback analysis. Here is a list of features of HubSpot's Service Hub:
Free CRM: Foundation for managing customer relationships and addressing post-service issues.
Ticketing System: Efficient organization and resolution of customer queries.
Workflows: Automation for tasks related to service and support, such as notifications.
Social Media Integration and Management: Integration with social platforms to enhance customer support.
Customer Support Portal: Resource for maintaining customer relationships and offering a knowledge base.
CMS Hub
The Content Management System (CMS) Hub manages and delivers website content. It includes website building and hosting capabilities, content personalization, and SEO optimization tools. Here are some features of HubSpot's CMS Hub:
Landing Pages: Creation of landing pages for marketing campaigns and lead capture.
SEO Advisor: Guidance to improve search engine rankings during content creation.
Website Themes: Provides pre-designed website themes that users can customize to match their branding and create professional-looking websites quickly.
Adaptive Testing: This feature allows users to test different versions of their website content to determine which performs best and drives better results.
Multi-Language Content Creation: Allows users to create multi-language variations of their content, enabling them to provide personalized experiences for users in different languages.
Operations Hub
HubSpot's Operations Hub is designed to help automate and streamline operations across your organization. It includes tools for data syncing, workflow automation, and custom app creation. Here is a list of key features:
Data Sync and Cleanup: Automate data syncing between HubSpot and other systems.
Data Quality Automation: Detect and fix data quality issues.
Workflow Automation: Build custom workflows to automate complex business processes.
Reporting and Analytics: Access advanced reporting and analytics tools to better understand your operations.
Commerce Hub
HubSpot's Commerce Hub is the newest addition, with several features for businesses to streamline their e-commerce processes and improve customer experiences. Here are some of the key features:
Invoices: Allows businesses to generate invoices directly from their CRM, simplifying the billing process.
Stripe Payment Processing: Integrates with Stripe, a popular payment processing platform, to handle secure and efficient online transactions.
Product Catalog: HubSpot's Commerce Hub provides a product catalog where businesses can showcase and manage their products, including details such as pricing, descriptions, and images.
Order and Inventory Management: Offers tools to manage orders and inventory, allowing businesses to track and fulfill customer orders, monitor stock levels, and handle returns and refunds.
Discount and Promotion Management: It includes features for creating and managing discounts, promotions, and coupon codes to incentivize purchases and drive customer engagement.
Analytics and Reporting: HubSpot's Commerce Hub provides analytics and reporting capabilities to track sales performance, monitor customer behavior, and gain insights into e-commerce operations.
HubSpot CRM - A Cloud-Based Powerhouse
While HubSpot CRM offers a user-friendly interface and a range of intuitive tools, many of its features can benefit greatly from technical expertise. We offer our customers:
Extensive HubSpot expertise and experience to leverage the platform effectively.
Crafted strategies customized to align HubSpot with your unique business goals.
Services designed with a strong focus on driving substantial business growth and boosting revenue streams.
Expertly designed automation and HubSpot's CRM solutions to streamline operations efficiently.
Proven track record of satisfied clients who have thrived with Code Accelerator's HubSpot expertise.
Summing Up,
HubSpot CRM is the ultimate solution for businesses seeking a user-friendly, compatible, and accessible CRM platform. Its exceptional features and benefits streamline business processes, accelerate growth, and open up possibilities and achievements. HubSpot CRM is your answer if you're searching for a CRM that aligns with your goals and offers remarkable features. Don't hesitate—adopt this platform and set your business on a path to success.
Code Accelerator is here to help you explore the full potential of HubSpot CRM features, optimizing your CRM, marketing, sales, and customer service efforts. Visit our website and connect with our experts regarding your requirements today!