How to Connect HubSpot to Facebook? Explained In Detail
Blog

/

How to Connect HubSpot to Facebook? Explained In Detail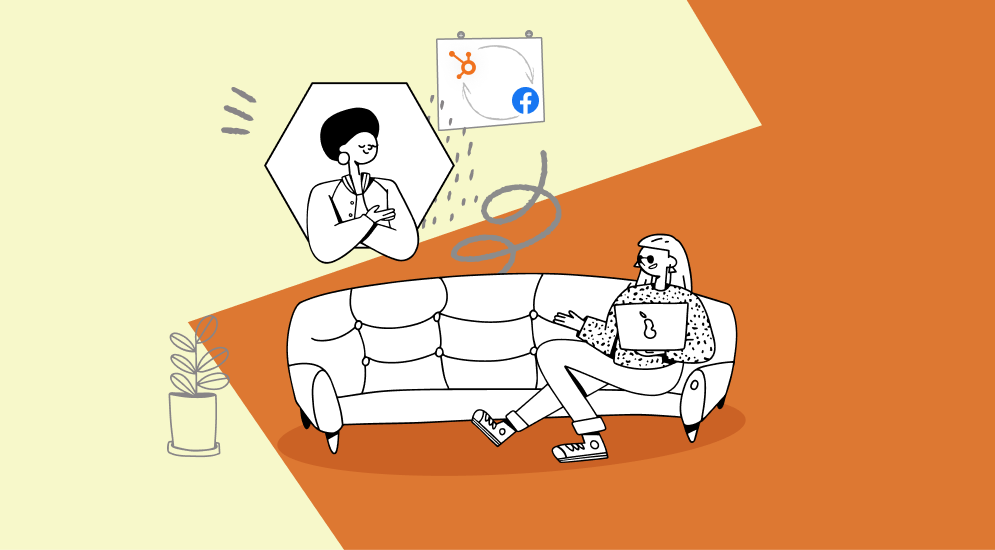 Shubham Mishra
HubSpot Facebook Integration is a tool that helps with things like inbound marketing and also automation. It can be used for lots of different things related to marketing, from CRM to sales to customer interactions. You receive free CRM, lead creation, and also social media management capabilities with HubSpot Facebook Integration. This article guides you on how to connect HubSpot to Facebook.
Why Do You Need to Link Your Facebook Lead Ads with HubSpot?
The acquired leads from Facebook Lead Ads may only be downloaded as a CSV file. However, this manual process is costly for many companies and also prevents you from making the most of your Lead Generation efforts. New leads may be automatically added to your HubSpot account if you utilize that service. Automatic follow-up actions, like sending a welcome email, SMS, or phone call, can start happening after a person registers.
Welcome emails have the potential to raise revenue by up to 320% on a per-email basis compared to other promotional emails. Therefore, integrating Facebook Lead Ads with HubSpot is a great way to boost your campaign's return on investment (ROI).
So How to Connect HubSpot to Facebook? Easy Steps

If you're looking for a way for connecting HubSpot to Facebook, there are a few things you'll need to do. First, you'll need to create a Facebook Page for your business if you haven't already. Once you've done that, you can follow the instructions below to connect your HubSpot and Facebook accounts.
To connect your HubSpot and Facebook accounts:
Log into your HubSpot account and go to your settings.
Under "Integrations," select "Facebook."
Click "Connect Account."
Enter the name of the Facebook Page you want to connect to HubSpot.
Select your page's profile picture and also cover photo from HubSpot's image library.
Click "Save."
HubSpot Facebook Integration Limitations
Now that you know how to connect HubSpot to Facebook, let's talk about some of its limitations.
No Follower/Audience Demographic Data:
HubSpot is the most effective tool for researching social media networks like Facebook. However, HubSpot does not fully enable you to go further into Follower and also Audience research data to the same degree when it comes to Follower and also Audience data.
Doesn't Have All the Features Of The Native Social Media Platforms:
The HubSpot Facebook Integration doesn't work properly with Facebook's Likes. HubSpot lacks premium features and also post types seen on other social networking networks.
Process Can Be Automated:
HubSpot automates businesses' Facebook presence. In a limited sense, this is fantastic. Same kind of customers and also businesses feel that the HubSpot Facebook Integration is completely robotic and also automatic after some time.
Expensive:
It is important to consider the price when comparing HubSpot with other social media management platforms. Many social media tools available on the market are cheap or free. HubSpot's Facebook integration, but, costs far more than other native social media tools.
Conclusion
HubSpot is the one-stop shop for any of your digital marketing tool requirements. This article covers the key aspects of HubSpot and Facebook integration. You understand the relevance of HubSpot Facebook Integration and also how to put it up. You studied Integration's limits.